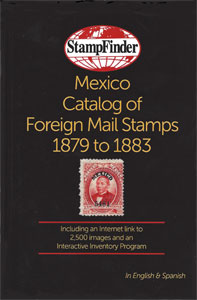 This online catalog is an update of our hard copy catalog titled "Mexico Catalog of Foreign Mail Stamps 1879 to 1883" published in 2014 which provides guidance to Mexico collectors to one of the most overlooked areas for specialization. This update is available only in digital form so as to provide images of the thousands of varieties identified so far and because its digital format allows continued updates as new information comes about. We welcome anyone who has copies of missing images to send them to us for inclusion herein.
The foreign mail issues of 1879 to 1883 has a special attraction in that the volume of stamps issued and used numbers in the teens or hundreds for most issues. Also, many of the error overprints, such as the year 1882 represented with a '28' for various districts are known to only occur twice in a full sheet. Hence, as few as one such error exists and the number of issues printed with this error is still unknown. Other errors may be just as rare. With your feedback on these, we will determine this.
The recognition and defining of these stamp varieties and values has never been thoroughly done until now. Still, this catalog is only a start in developing a complete listing for this specialty. Your co-operation in this effort through providing us with feedback will help make this a more definitive area of specialty.
To make this catalog complete requires input from you, the collectors. As you will see when you study this catalog, there are numerous stamp varieties which have not survived the ravages of time or the pen of some postmaster. There is also no way to quantify the various error types without feedback from you. There are also errors and omissions which we will correct based on feedback from you. We ask you to advise us so this catalog can not only answer questions, but also be expanded with information on individual stamps as to:


Which stamps have which color and size of name overprint
Which stamps come with and without the district name
Which additional issues were redirected
Which issues have cancelled to order or CTO overprints
Which mint stamps were totally pen invalidated
Which low usage stamps have survivors that are not bogus
What other varieties and errors not listed here do you have