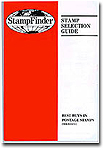 Best Buys in Postage Stamps
Features the stamps identified as the best investment values from the various country and regional guides being published by StampFinder. These stamps constitute the best of the best in terms of value, having averaged better than a 6% annual rate of return for a decade or more.
Contact us for pricing and availability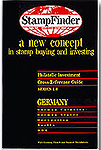 Best Buys - Germany
Features Germany, German Colonies, Occupation Issues, Berlin and DDR. A buying guide for over 3,000 investment grade stamps with specific buy or avoid ratings. Also includes a cross index between Michel, Yvert, and Scott numbers.
Contact us for pricing and availability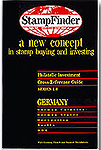 Best Buys - Far East Countries
Features China, China - P.R., Hong Kong, Japan, Korea, Macao, Manchuko, Mongolia, Philippines, Ryukus Islands, Tanna Tuva, Thailand, and Tibet. Provides average world pricing on over 2300 investment grade stamps based on Michel, Yvert, Gibbons and select local catalogs. Shows how the world price compares to current Scott prices. Provides appreciation histories, appreciation potential and buying recommendations as well as general commentary on recent price changes and overall, by country, price trends.
Contact us for pricing and availability